In 2019, Oracle (parent corporation to DynDNS) has announced that they're retiring select services, including access to zone transfer from Dyn to external nameservers.
While the End-of-Life (EOL) date has been moved from 2020 to 2022, it's worth looking at the easiest option to migrate DNS zone data from Dyn to other providers. Men&Mice has been supporting Dyn as an external cloud DNS platform. As such, the zone migration feature makes the process easy.
In fact, it takes just a few minutes. (And you can apply the steps here to almost anywhere you may be hosting your DNS.)
What you need
The list is relatively short:
some DNS zones in Dyn (or other platforms)
a target platform (we'll use AWS)
a functioning copy of the Men&Mice Suite

To make this last one simple, you can get a fully functioning, no-restrictions 30-day free trial of the Men&Mice Suite. Run it yourself or deploy on Microsoft Azure, it'll give you everything to migrate DNS zones.
(Of course, once that's done, you're free to experiment with it further. We're confident you'll find it impressive.)
Now let's dive into how you actually move the zone data.
DNS migration made easy — and complete
The zone migration feature in the Men&Mice Suite is robust but easy to use to migrate any DNS zone to a different service.
How it works: the Men&Mice Suite creates a new zone on the target service, including all the DNS records from the zone on the source service. It also copies the data it stores for the zone (like access controls configured, as well as the complete object history and custom field values).
Users also have the option of leaving a copy on the source server. This essentially duplicates the zone onto the target service. (Instead of migrating it completely.) This can come in handy and allows operators to verify that everything's working correctly on the new service before deleting the original.
Smooth sailing. In fact, you can migrate all your DNS data from one service to another before this song ends:
Movin' movin' movin', cruisin' cruisin' cruisin'
All that's left now is to do the deed.
1. Install the Men&Mice Suite
Installation instructions are available in our documentation.
2. Connect your services
The Men&Mice Suite is a DDI management overlay. Meaning that it doesn't come on hardware appliances or require integrating it into your network. Instead, you plug in the network services you already have.
Instructions on how to connect cloud accounts such as Dyn and AWS (that we will use as our target in this example) can be found in our Knowledge Base.
Make sure you have the right zone in Dyn: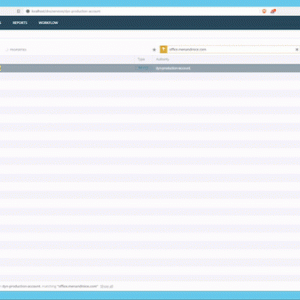 And verify that the target service is empty.
3. Migrate the zones
Here's where the magic happens. Select the zone, and click "Migrate zone":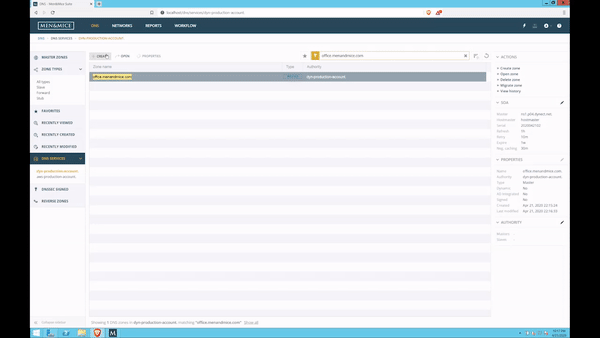 And verify that it worked: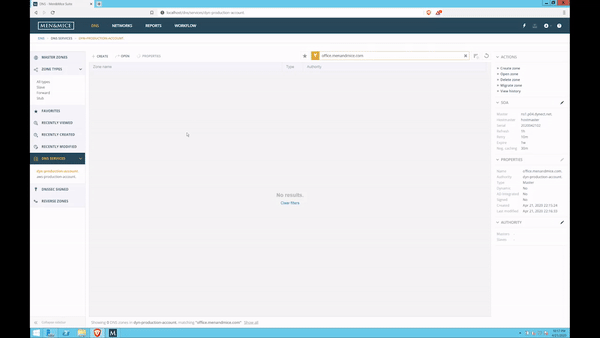 That's it, your zone is migrated. Expected more? Sorry to disappoint. :-)
Explore the Men&Mice Suite further
As the song above says: "I've got the feeling/I've got the real thing." Now you do, too.
Feel free to experiment with the Men&Mice Suite, and see how it can transform the way you see your networks. And of course, reach out to us at any time if you have questions.